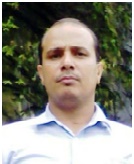 Dr. Anil Kumar Misra
Designation:Professor
Date of Joining: 29/11/2017
E mail:This email address is being protected from spambots. You need JavaScript enabled to view it.
Academic record & distinction
MSc (University of Lucknow)


PhD (University of Lucknow)


UGC-NET in Earth and Atmospheric Science


PhD topic: "Integrated water resource management and planning in dark areas of Agra and Mathura district of Uttar Pradesh"
Areas of Specialization


Hydrogeology, Remote Sensing & GIS and Geophysical Investigation


Latest Publications


Niragi Dave, Anil Kumar Misra, AmitSrivastava, Anil Kumar Sharma & S.K Kaushik (2017). Study on Quaternary concrete micro-structure, strength, durability considering the influence of multi-factors. Construction and Building Materials139: 447-457.(Impact factor: 3.169).

Anil Kumar Misra,

AnkitPachouri&AmandeepKaur (2015). Watershed Management Structures and Decision Making Frameworks. Water Resource Management (Springer): 29 (13): 4849-4861. (Impact factor: 2.848).

Anil Kumar Misra,

and Ajay Mishra ( Study of Quaternary aquifers in Ganga Plain, India: focus on Groundwater salinity, fluoride and fluorosis.Journal of Hazardous Material144 (1-2): 438–448. (Impact factor: 6.065).