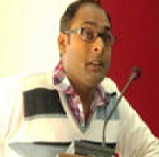 Name: Dr. Nitish Mondal
Designation: Associate Professor
Date of Joining: 16/10/2020
E-mail: This email address is being protected from spambots. You need JavaScript enabled to view it.
Academic record & distinction
M.Sc. (Anthropology) University of North Bengal
Gold Medalist (M.Sc. Anthropology, 2007)
UGC-NET, JRF (2007) in Anthropology
Ph.D. (Anthropology) University of North Bengal
Ph.D. Topic: "Assessment of Nutritional Status among the Rajbanshi population of North Bengal"
Areas of Specialization
Physical Anthropology
Latest Publication:
Sinha I, Tigga P, Mondal N, Sen J (2020) "Association between Age at menarche and Age at menopause among indigenous population of North Bengal, India", Journal of Biosocial Sciences, May 7:1-17. doi: 10.1017/S002193202000019X.
Bharali N, Singh KN, Mondal N (2019). "Composite Index of Anthropometric Failure (CIAF) among Sonowal Kachari tribal preschool children of flood effected region of Assam, India" Anthropological Review, 82(2):162-176. doi: 10.2478/anre-2019-0012.
Rongpi D, Mondal N (2019) "Estimation of stature from hand dimensions among indigenous Karbi tribal population of Northeast India", Journal of Clinical and Diagnostic Research, 13(3):HC01-HC07. doi:10.7860/JCDR/2019/38438.12720.