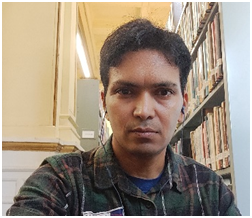 Dr. Uttam Lal
Designation: Assistant Professor
Date of Joining: 27/02/2012
Email: This email address is being protected from spambots. You need JavaScript enabled to view it.

Academic record & distinction
B.Sc, Hindu College, Delhi University.
MA, M.Phil, PhD (Ph.D), Jawaharlal Nehru University, New Delhi.
Junior & Senior Research Fellow(Earth & Atmospheric Sciences), Council of Scientific & Industrial Research, New Delhi, 2005-09.
Ph.D Topic: 'Environmental Constraints and Development Processes in a Mountain Ecosystem of Western Himalaya: A case study of Kinnaur'
Research interests:
Highland Environmental Constraints.

Cultural Ecology of Highland Societies.

Himalayan Rangeland dynamics& Animal Geography.

Borderland Space Relations
Award:
Emerging Scholar-2014 at the India-China Institute, The New School, New York, USA

Recipient of China-India Cultural Exchange Programme of Scholars,2014, ICSSR, New Delhi & CASS, Beijing

'Geography Teacher Award-2016' Conferred by the Deccan Geographical Society of India, Pune

Guest Fellow-Erasmus+ Mobility Programme, Aarhus University, Denmark, 2018

Associateship, UGC Inter-University Center, Indian Institute of Advanced Study (IIAS), Shimla 2019-21
Latest Publications
2021.'Snow Cover Area Changes in the ChangmeKhangpu Basin during 2002-2019, North Sikkim Himalaya, India'.(Co-Authored).Journal of Climate Change, Vol. 7, No. 2, pp. 27-34. DOI 10.3233/JCC210009

2021.'Glacial deposits from ChangmeKhangpu glacier in Sikkim Himalaya, India and theirmineralogical characterization'.(Co-Authored),Himalayan Geology, Vol. 42 (2), 2021, pp. 312-320,

2021.Communities, Institutions and Histories of India's Northeast (co-edited). New Delhi,Taylor & Francis (ISBN: 9781032158389)

2019. 'Ruins of Living and Dead in the Himalayan Borderlands' (Co-Authored) in Reading Space, Society and History in Asia through its Ruins. The Newsletter No. 82 Spring, International Institute for Asian Studies, Leiden.